Accelerate Application Deployment with the VM Marketplace Inside Virtualization Station
2019-04-22
Accelerate Application Deployment with the VM Marketplace Inside Virtualization Station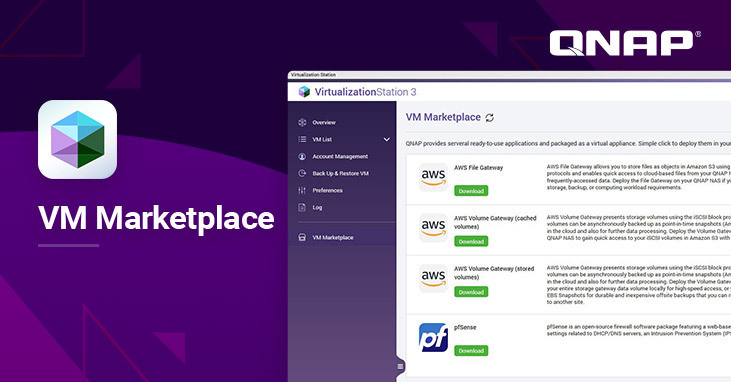 Taipei, Taiwan, April 22, 2019 – QNAP® Systems, Inc. (QNAP) today released the new VM Marketplace. Located inside the Virtualization Station app, the VM Marketplace allows users to install several prepackaged virtual machine (VM) images for rapid deployment and greater application potential.
QNAP has carefully selected applications from trusted vendors (such as pfSense) and packaged them into finely-tuned VM images for use in Virtualization Station. These images are available for download from the VM Marketplace, providing users with a streamlined installation and setup process.
QNAP will continue to add new images to the VM Marketplace, providing more outstanding applications/solutions to users. To take advantage of the new VM Marketplace, users must be using Virtualization Station version 3.1.1079 (or later) (for QTS 4.3.0 to 4.3.6), or version 3.2.355 (or later) (for QTS 4.4.0 and above).
To learn more about QNAP virtualization solutions, visit https://www.qnap.com/go/solution/virtualization-station-3/.
About QNAP Systems, Inc.
QNAP Systems, Inc., headquartered in Taipei, Taiwan, provides a comprehensive range of cutting-edge Network-attached Storage (NAS) and video surveillance solutions based on the principles of usability, high security, and flexible scalability. QNAP offers quality NAS products for home and business users, providing solutions for storage, backup/snapshot, virtualization, teamwork, multimedia, and more. QNAP envisions NAS as being more than "simple storage", and has created many NAS-based innovations to encourage users to host and develop Internet of Things, artificial intelligence, and machine learning solutions on their QNAP NAS.
QNAP Virtualization Station — QNAP Virtualization Station enables virtualized desktop operations on the Turbo NAS for managing multiple virtual machines. With the easy-to-use interface, you can centrally manage all virtual machines created on the Turbo NAS with least efforts. QNAP Systems, Inc. - Network Attached Storage (NAS)
QNAP Virtualization Station 3 QNAPTV — YouTube
WriterShelf™ is a unique multiple pen name blogging and forum platform. Protect relationships and your privacy. Take your writing in new directions.
** Join WriterShelf**
WriterShelf™ is an open writing platform. The views, information and opinions in this article are those of the author.
Article info
Categories:
Tags:
Date:
Published: 2019/05/07 - Updated: 2020/05/28
Total: 298 words