Book: The Fourth Monkey by J.D. Barker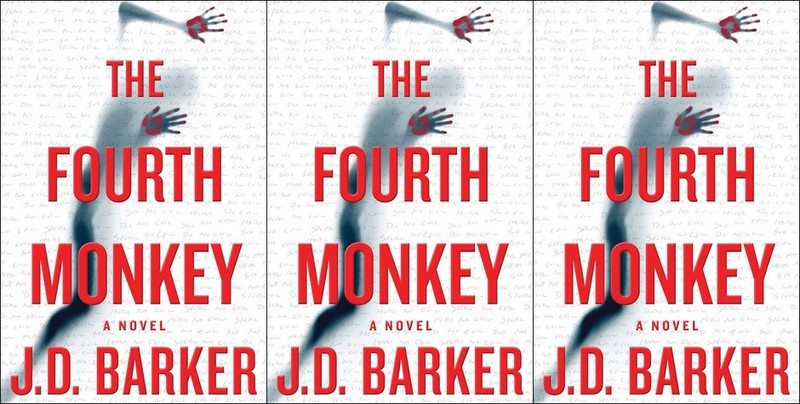 Looking for an engaging cop thriller to pass a few hours? J.D. Barker's The Fourth Monkey is a great place to land.
The story revolves around a serial killer who's been plaguing Chicago for some 5 years. No one's been able to crack the case. The killer's MO is indelibly stamped on the media, the community and the cops.
The crew of detectives chasing down the killer are a likable bunch. Smart, loyal and dedicated. They're lead by Porter, a guy who's coming off a deeply personal issue that is never far from the surface.
The killer himself is more than intelligent and reveals his backstory to significant effect. He's wrapped in an Andy-Griffith-meets-budding-Hannibal-Lecter vibe that is interesting if a little sing-song. One wonders where he went to University. No doubt future installments will tell.
The plot twists and propels itself along more than correctly. The bad guy leads his pursuers though his taut machinations to a fine conclusion.
And this is #1 of the #4MK series. The end of book blurb tells that there's more on the way.
Fine with me. I'll read 'em.
J.D. Barker has a fine voice for this kind of entertainment.
WriterShelf™ is a unique multiple pen name blogging and forum platform. Protect relationships and your privacy. Take your writing in new directions.
** Join WriterShelf**
WriterShelf™ is an open writing platform. The views, information and opinions in this article are those of the author.
Article info
Categories:
Tags:
Date:
Published: 2017/09/20 - Updated: 2020/05/28
Total: 196 words
About the Author
Got a suggestion for a good read? Leave it in the comments!