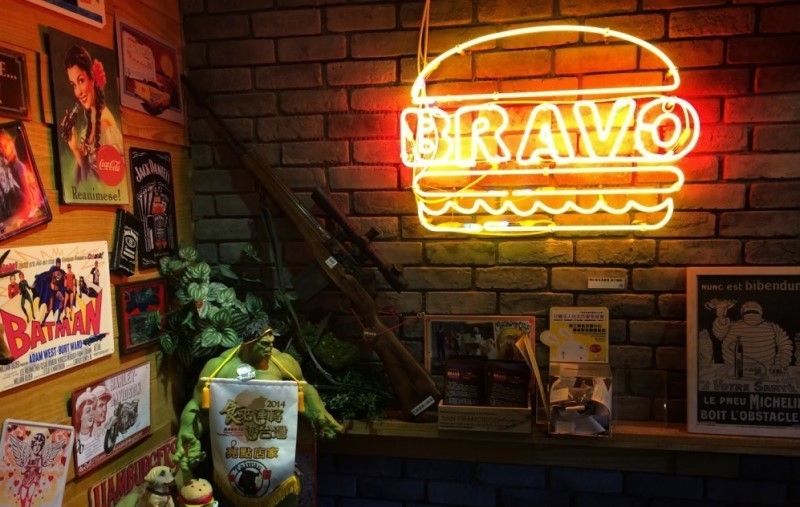 Burger joints have become fairly common in Taipei. Bravo Burger was one of the earliest to open and has gone from strength to strength. The original location was a small place just off Minchuan East Rd., not far from the, then, domestic airport. Not long after it opened, the place caught on and there was always a line.
With the success of the first store, Bravo opened a larger restaurant on Civil Boulevard. Now they have moved the original restaurant to the opposite side of the street into a much larger space.
The decor of the new place is comfortable and modern. There are about 10 tables out front and a bigger table in back. The menu has grown too. There are appetizers, salads, quesadillas and sandwiches in addition to burgers.
But we went there for the burgers and weren't disappointed. The menu features nine burgers, ranging from a standard cheeseburger to a mighty big double patty bacon and cheese burger. There are specialty burgers like guacamole, mushroom and peanut butter. I had the guacamole burger.
Service was fast. Despite the fact that the place was full up, our meals came out very quickly. The soup of the day was tomato. Tangy and creamy, it was a nice way to start. The burgers turned out to be juicy and just right – medium well done. An interesting twist is that the buns are whole wheat. The fries were a combination of wedge and standard cut. Portions aren't small but not overwhelming either. Lemonade was a great drink.
It's been a little while since we ate at Bravo. It's excellent to see that they continue to bring it with style.
WriterShelf™ is a unique multiple pen name blogging and forum platform. Protect relationships and your privacy. Take your writing in new directions.
** Join WriterShelf**
WriterShelf™ is an open writing platform. The views, information and opinions in this article are those of the author.
Article info
Categories:
Tags:
Date:
Published: 2017/03/03 - Updated: 2020/05/28
Total: 279 words