Namisu Nova - Titanium Comes Writing
It doesn't take too long poking around the pocket knife world to discover great swaths of titanium.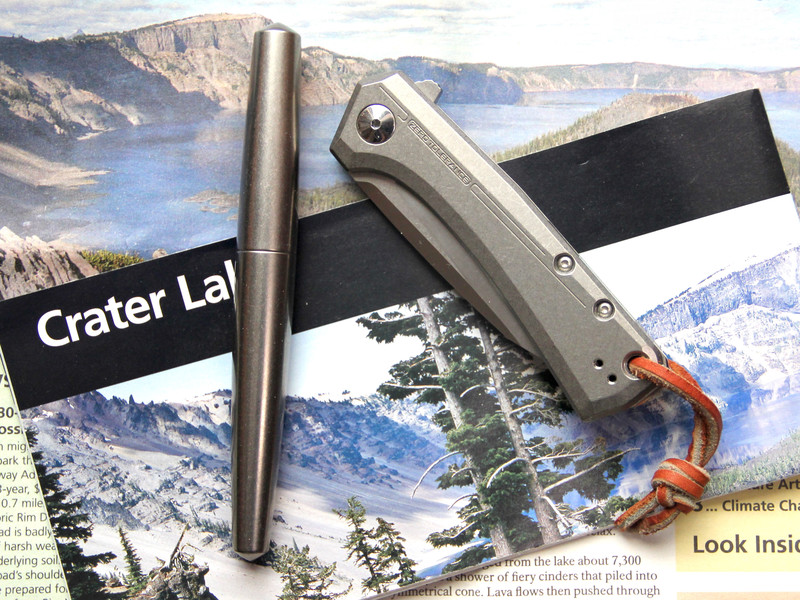 Traditionalists may consider it out of bounds, but titanium is a premium handle material for all kinds of modern folders.
And for good reason. Titanium is light, strong and can be anodized into a wide range of colors. It gives a knife an exotic element that says the piece has aspirations to be special. Out of the ordinary. Makers seem to enjoy exploring the aesthetics of the material with industrial and minimalist designs.
The fountain pen crowd has been a bit slower to get on the titanium bandwagon, but that's beginning to change. UK pen maker Namisu is one of them.
Their latest pen, the Nova, is a skillful cross between classic and modern. The shape of the pen has alluring echos of the famed Japanese pen maker Nakaya, considered by many the holy grail of writing instruments. The stonewashed finish captures the solid confidence of a well-crafted tool. The Nova is superbly made. The cap threading is strong but not sharp and the cap comes off with hardly more than half a turn. The finish is flawless.
Plus it's available with a titanium nib. Titanium nibs are not common and add an interesting level of softness to the writing experience. However, they're also more delicate and can be damaged (sprung) if pressed too hard. They're not for everyone, but then again clipless caps aren't everyone's cup of tea. They'll roll off your desk if you're not careful.
The Titanium Nova is a heavier pen: 35g uncapped (I don't write with it posted) compared with 20g for a Pilot Custom Heritage 92 posted or 25g for a macrolon Lamy 2000 posted (16g unposted). For me it doesn't matter. The Nova feels very comforatable and writes a dream.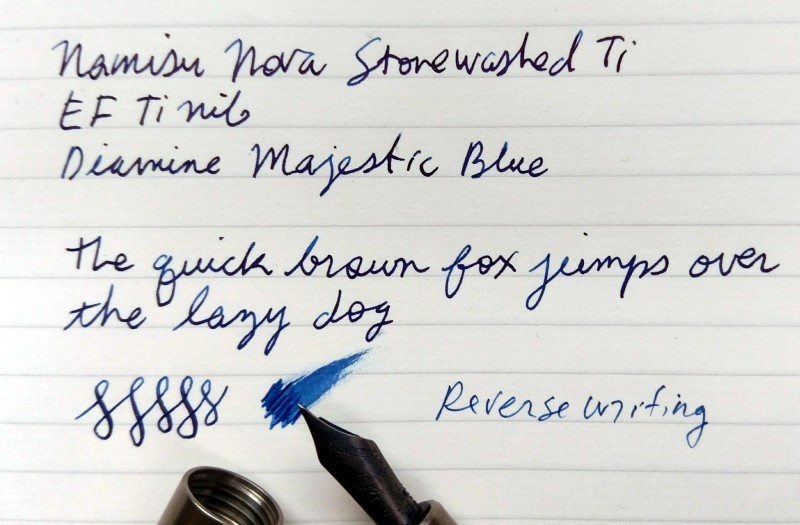 The Titanium EF nib is wet and just a bit springy. To my mind, just the thing for an ink that promises sheen like Diamine Majestic Blue. The pen doesn't disappoint. I'm going to be enjoying this pen for a good long while.
Are you a fan of Nova pens? Leave a comment!
WriterShelf™ is a unique multiple pen name blogging and forum platform. Protect relationships and your privacy. Take your writing in new directions.
** Join WriterShelf**
WriterShelf™ is an open writing platform. The views, information and opinions in this article are those of the author.
Article info
This article is part of:
Categories:
Date:
Published: 2017/06/15 - Updated: 2020/05/28
Total: 357 words
About the Author
More often that not, my desk is my pocket. But everyday desk items doesn't have the same ring.