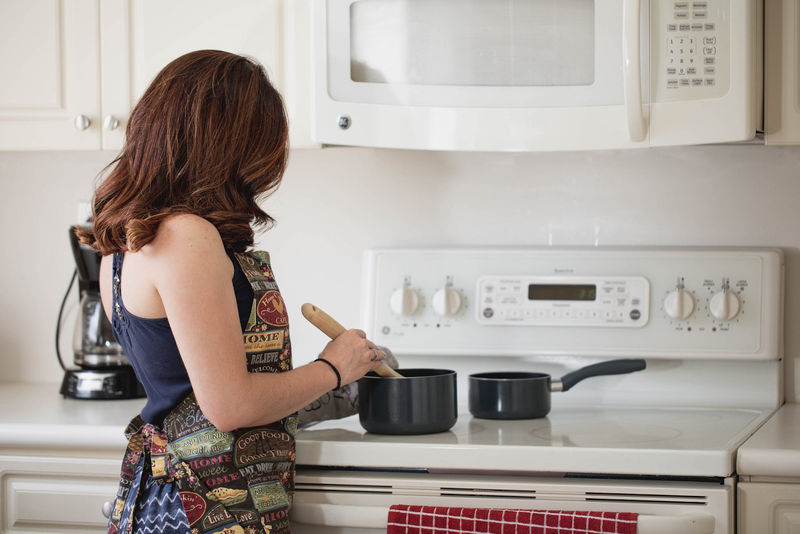 If you are scratching your head thinking about what you can get your friend who loves to cook, look no further. We've compiled a list of ideas to help you find the best present for someone who loves cooking.
When it comes to cooking gifts, your gift recipient might fall into a few different camps. To hone in on the right cooking gift for your recipient, ask yourself a few questions…
Are they experimental and love to try new recipe inspirations?
Something like an instant pot never fails for the ultimate machine of convenience. Many a curry, pasta sauce, soup, even yogurt can be made in an instant pot! And, best yet, so many people own instant pots it's not unheard of to have an instant pot luck. No kidding. Get your gift recipient on the band wagon. 
Do they predominantly cook to share with friends over dinner parties?
A pizza stone could be a great way to provide a fun addition to the kitchen. Pizzas require high heat in the oven. To get a crisp crust, a pizza stone is preheated in the oven, then the pizza is placed onto the stone and reinserted into the oven to cook for 10-15 minutes at 500 degrees. The stone provides even distribution of heat for a crispy crust and a delicious homemade pizza. And plus, pizzas are simple and fun to make to entertain guests at home or for a tasty family meal. Take a look at the list below. If you want more ideas, we've got an entire list just for gifts for dinner hosts. Check it out.
Do you think they would need a practical tool as a cooking gift?
A nifty tool common in many cooking experts' kitchen is the le Creuset dutch oven. The dutch oven allows you to cook ingredients in the stovetop first then transfer to the oven to slow cook. This provides for flavorful stews and soups.
Do they have complex taste buds?
Maybe your gift recipient would appreciate something more along the lines of a sample collection of salts from around the world to flavor their dishes. Salt complexity is often appreciated by finicky palates. Even for the average foodie, a salt tasting set opens up a world of flavors when paired with different foods.
How about giving something fun and unique?
Did you know you can grow your own mushrooms? With a mushroom kit, your gift recipient can have fresh mushrooms grown in their kitchen from a box. It's a fun project to watch them grow from 
Take a look at our list below for more inspiration! We hope this helps!
1. Sous Vide Precision Cooker 
Anova makes the world's best-reviewed and best-selling sous vide device. The Anova Precision Cooker allows anyone to cook a restaurant-quality meal at home. The sous vide Circulator is the perfect kitchen appliance for hands-off cooking of vegetables, meat and much more with consistent control and precision. Buy from Amazon.com
2. Multi-Use Programmable Pressure Cooker
If you live a fast-paced, healthy, and eco-friendly lifestyle, Instant Pot® is designed specifically for you. Instant Pot® is a smart Electric Pressure Cooker designed by Canadians with the objective of being Convenient, Dependable and Safe. It speeds up cooking by 2~6 times making it extremely energy-efficient, while, preserving nutrients and preparing healthy, tasty dishes. Buy from Amazon.com
3. Large American Walnut Wood Cutting Board
A multipurpose, yet stunning minimal design. This board was thoughtfully crafted to be a work of art in your kitchen with our premium selection of rich American Black Walnut, vibrant Cherry and Oak. The reversible design offers the use of either side for prepping and chopping with a dual purpose built-in well that can be used as a catch for chopped and diced veggies but is also perfectly sized to hold your crackers and sliced baguettes for entertainment use. Incredible for vegetable platters or to use as a charcuterie board for cheeses and meats. Buy from Amazon.com
4. The Gourmet Sea Salt Sampler
The perfect gift for anyone who loves to cook or eat!  16 individually labeled containers hold about 1/4 oz. of each, plenty for several servings as they are full of natural flavor. Have fun Exploring these delicious gourmet salts and find your favorites. An informative brochure booklet is enclosed describing each salt, its origins and suggested uses. Buy from Amazon.com
5. NutriBullet Blender
Take the first step towards transforming your health with the machine that started it all, the original 600-watt NutriBullet. Unlike juicers and blenders, Nutribullet nutrient extractors break down the cell walls of fibrous plant foods, releasing important vitamins and minerals contained within. At the same time, they reduce beneficial fiber, pulp, seeds, and skins into a smooth-as-silk texture, delivering food to your body in an easily digestible, easily absorbable form. More than juicing, more than blending, and more than chewing, nutrient extraction allows you to receive the highest degree of nutrition your food has to offer. Buy from Amazon.com
6. Julia's Kitchen Wisdom Cookbook
In this indispensable volume of kitchen wisdom, Julia Child gives home cooks the answers to their most pressing kitchen questions. How many minutes should you cook green beans? What are the right proportions for a vinaigrette? How do you skim off fat? What is the perfect way to roast a chicken? Here Julia provides solutions for these and many other everyday cooking queries. Julia's Kitchen Wisdom is packed with essential information about soups, vegetables, and eggs, for baking bread and tarts, and more, making it a perfect compendium of a lifetime spent cooking. Buy from Amazon.com
7. Marcato Pasta Machine
Called the Ferrari of the pasta machine world by Cook's illustrated, Marcato's Original World-Famous Atlas Pasta Machine rolls and cuts pasta dough for making traditional lasagne, fettuccine, and tagliolini at home. Easily make 3 pasta shapes; equipped to easily attach a pasta drive motor or any of 12 pasta cutting accessories (sold separately). Made in Italy; includes pasta machine, pasta cutter, hand crank, clamp, complete instructions, and 10-year manufacturer's warranty. Buy it from Amazon.com
8. WÜSTHOF Classic 8 Inch Chef's Knife
Wüsthof"s Classic Chef's Knife is the workhorse of the kitchen or the essential kitchen knife. The Chef's knife is an indispensable all-purpose kitchen knife that can be used for chopping, mincing, slicing, and dicing. Due to the weight and balance of the knife, it is also perfect for heavy-duty work such as cutting thicker vegetables and meats. Buy it from Amazon.com
9. Chef Works Unisex Memphis Bib Apron
This apron features a tough denim look with the soft feel of 100% cotton. Having an adjustable metal neck buckle and contrasting tape ties and topstitching are just a few of the features that help the Memphis Bib Apron stand out. Along with its double front pockets with cell phone divide, the criss-cross bar tacks allow the apron to be well used while maintaining its chic look. With its two utility pockets on the chest, the Memphis Bib Apron is perfect for the chef who needs to have their items close at hand and looking good while working. Buy it from Amazon.com
10. Culinary Butane Torch
Kitchen torch perfect for roasting and charring vegetables, glazing ham, browning and crisping toppings, melting the cheese and of course producing the sugary crust on crème Brulee, meringues and pastries. Buy it from Amazon.com
For a complete gifts list and more inspiration, head over to this article by instagifts.co
WriterShelf™ is a unique multiple pen name blogging and forum platform. Protect relationships and your privacy. Take your writing in new directions.
** Join WriterShelf**
WriterShelf™ is an open writing platform. The views, information and opinions in this article are those of the author.
Article info
Categories:
Tags:
Date:
Published: 2019/10/19 - Updated: 2020/01/24
Total: 1238 words