Beena Magic Retractable Nib Fountain Pen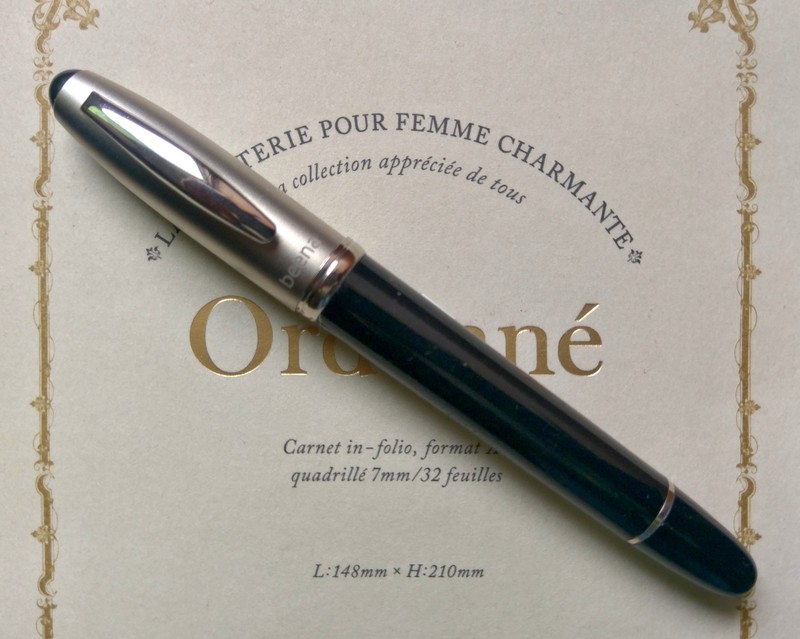 This is a fun, diminutive-sized writing instrument, with a twist. The nib retracts! It's proving to be a pleasant alternative to the larger pens I've been enjoying lately. I can see it as a take-along pen for notes or general writing duties any day of the week.
The Beena Magic is a NOS (New Old Stock) Indian pen manufactured in the late 1980's, available on the website of the Indian pen maker and reseller ASA Pens.
I have a few of ASA's hand-produced acrylic and ebonite pens I like quite a bit. ASA also sells NOS pens, though not a wide range, so when I received an email about this pen I was intrigued.
From the ASA website:
In the 70s and 80s, India had many leading Fountain Pen Manufacturers and Brands. Beena, was an in-house brand of the OEM who also used to manufacture for other manufacturers like Chelpark, Camlin and others. With demand of Fountain Pens coming down, the OEMs started focusing on the other brands and marketing under their own brand decreased.

Beena, had many jewels under its name like the Beena Chaplin and Beena 500, mostly piston and attractive fountain pen. Beena was well known for their High Quality Fountain pens.
The interesting thing about this pen is that the nib retracts.
The price was right and ASA was selling the pens in lots of two. I placed an order. The pens arrived promptly in perfect condition.
Styling
Looking at the pictures, my first thought was the cap was slightly bulbous in an out-of-fashion way. But I am coming around the more I use the pen.
The brushed silver cap is plastic, like the rest of the pen, and is nicer than I had expected. First, it's positive and well engineered. It snaps on and off with an easy click that's crisp and definitive. There's no chance of the cap coming off accidentally. Bravo Beena.
I am especially impressed by the font they used for the name on the cap. Most Chinese pens still struggle with logo design but the Beena guys had it together 25+ years ago.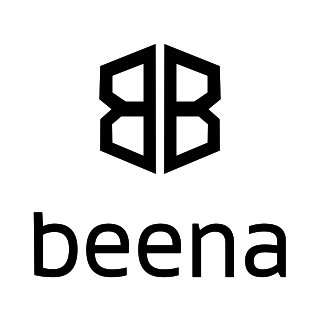 The clip is a stamped metal and not too much to write home about. I'll try to treat it nicely.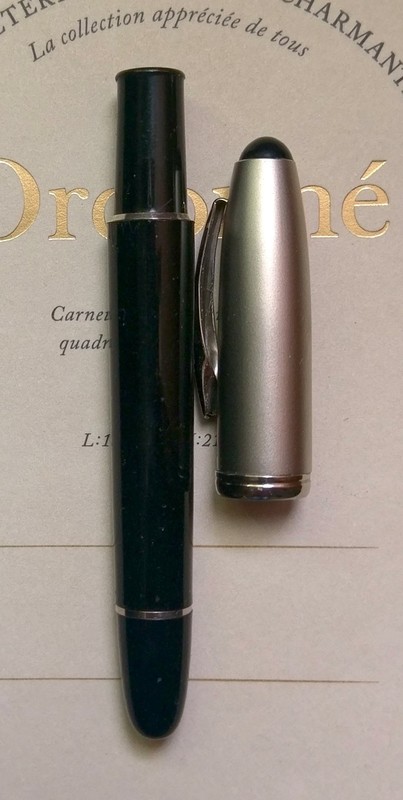 Retractable Nib
With the nib pulled in, it looks very weird, like a broken toy you might come across. I'm still not 100% sure what the utility of the retractable nib actually is. Keep the nib from drying out? Protect the nib from damage?
You turn the end cap (like a piston filler) to extend / retract the nib unit, like some ballpoint pens. It takes about 3/4 of a turn to complete the action. The motion is smooth and easy, if a little loose.
The nib mechanism is plastic and I hope it doesn't go south anytime soon, but it might. I also thought the nib might shift or wiggle, but that's proven to be largely a non-issue. The nib isn't solid like a fixed pen, but it's not loose.
Writing
The pen only takes ink cartridges only and comes with a single blue cartridge per pen. I wondered if the ink might also be NOS because it was unsaturated and dried to a very faded blue. Pelikan cartridges fit the pen so I re-inked an old cartridge I had around. Better ink made a big difference.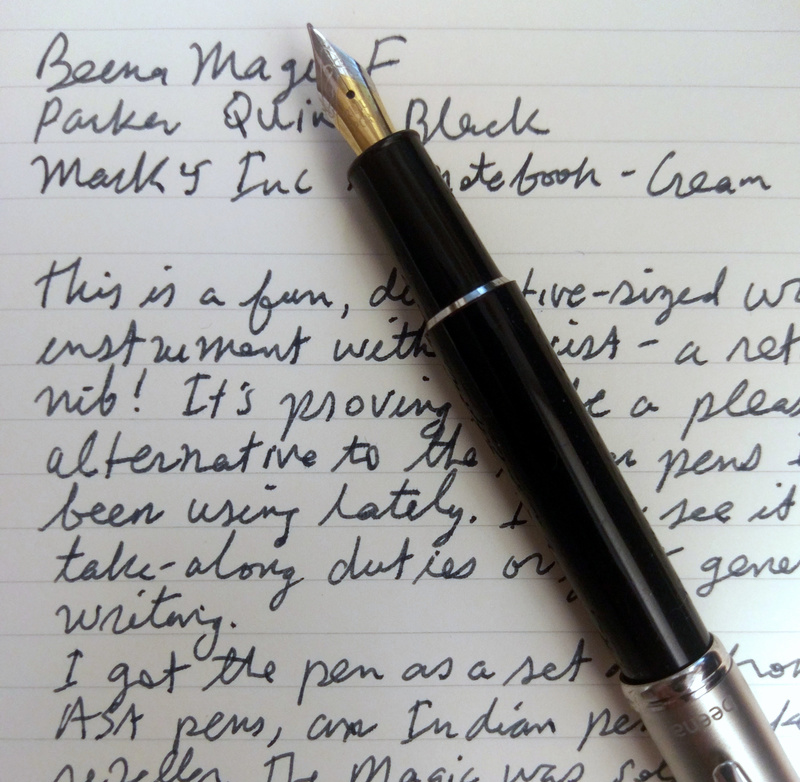 The nib writes with a fine line bordering on medium. It's reasonably wet. The No. 5 nib is small, of course, and is very similar in size to a Baoer 388.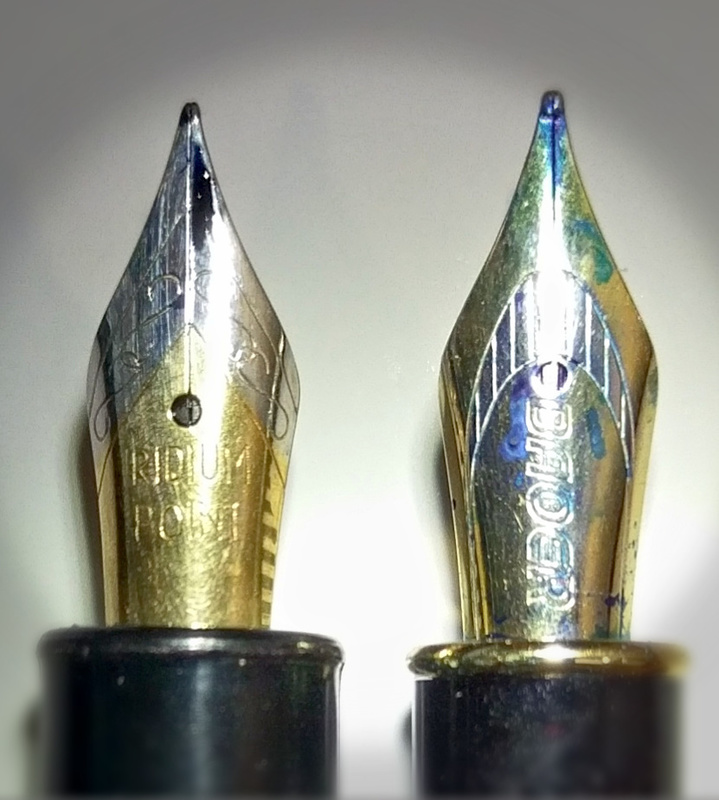 The pen feels good in the hand and was smooth right from the start. It's a natural for posting which is clearly how it was meant to be used.
Size-wise, it posts up just a little smaller than other pens I generally write with posted. At just over 15g, it is nicely lightweight . Only the two Sheaffers are lighter, but by just a gram or so.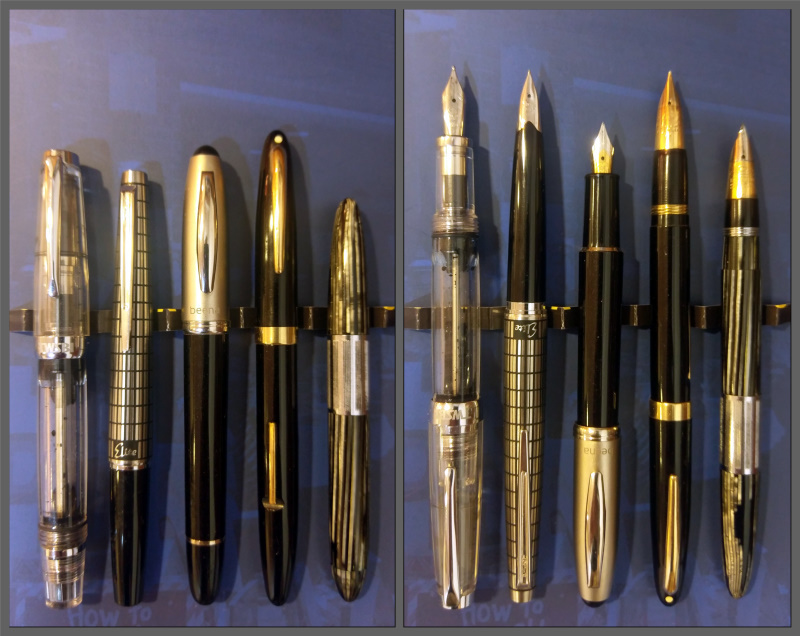 I can't imagine that the stock of Beena Magic pens at ASA will last too very long. If you're interested in a bit of friendly Indian pen history, I can recommend that you get yourself a pair. The second pen could make an excellent gift to a fellow pen lover.
WriterShelf™ is a unique multiple pen name blogging and forum platform. Protect relationships and your privacy. Take your writing in new directions.
** Join WriterShelf**
WriterShelf™ is an open writing platform. The views, information and opinions in this article are those of the author.
Article info
This article is part of:
Categories:
Tags:
Date:
Published: 2018/04/13 - Updated: 2020/05/28
Total: 723 words
About the Author
More often that not, my desk is my pocket. But everyday desk items doesn't have the same ring.