Shower Glass enclosures For a Beautiful Bathroom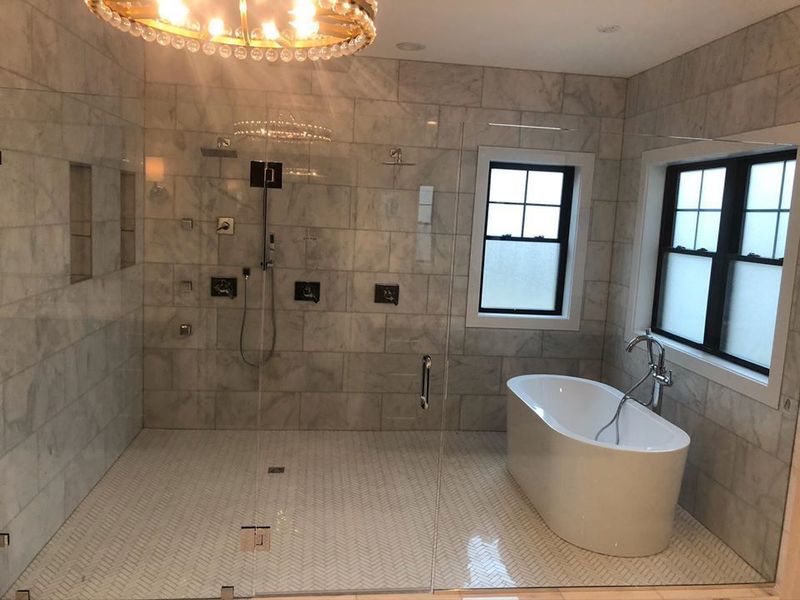 These days technology is being incorporated in almost all types of businesses. With the inclusion of technological advancement comes the influx in sales. Technology helps in faster work progress, thereby leading to increased production of commodities. With more significant financial investment comes better technology, which is directly proportional to producing refined output faster. And in the modern-day fast life of the urban lot, clients always prefer a rapid delivery of the item purchased. Thus, every industry starting from food to vehicle to clothes to furniture, infrastructure, advertisement, media, television, cell phone, electronic gadgets, and more, stands influenced by it.
Technology has not only contributed to a faster mode of production but also the visual appearance of objects. People all across the globe have eventually benefitted from this feature. Be it for public infrastructures or personal home decors; visual attraction has become a necessity. People love decorating their homes with unique and trending decors that technology has to offer. In recent times, experiments are being conducted to modify intimate spaces like bathrooms and bedrooms and guest-friendly spaces like sitting rooms and dining rooms.
Also known as 'shower cubicles,' shower enclosures are the best way of secluding shower space from the latrine space. Available in various sizes, shapes, and patterns, glass is the only material that goes into the making of shower enclosures. The thicker the glass material, the more resistant it proves towards the noise, hence offering a more peaceful 'shower-time.' Compared to the framed ones, the frameless glass shower enclosures give an elegant touch to the bathroom. Listed below are some types of glass shower enclosures that one can select from –
'Quadrant enclosures' –This type is arch-shaped and is modeled to be set against the corner of the bathroom wall.
'Pivot shower doors' – This type of glass shower enclosure 'opens into the washroom.'

'Bi-fold shower doors' – They consume less space and open inwards.

'Sliding shower doors' – They are big and may be utilized as a substitute for a bath.
'Steam shower cabins' – They provide the comfort of accessing steam showers and are multi-functional when it comes to showering.
'Walk-in showers' - They are spacious compared to the other ones and give out an ultra-modern vibe.
Other than the shower mentioned above enclosures that mostly come in cabins, Shower screens are also one type of shower enclosures. Shower screens are low-cost compared to the glass shower enclosures and are easier to maintain. They are also easier to install and come with a convenient setup to suit the shower enclosure's height and area. They provide effortless access since there are no doors and prove suitable for physically disabled people.
It is preferable to visit shower enclosure showrooms than sitting at home and looking for custom shower enclosures online.
Apart from shower cabins, glass is also the main component that goes into making essentials like windows and doors for houses and general stores. Glass contractors have accordingly been in demand for modifying regular glass windows and doors with exclusive looks. They provide different types of glasses to modify the interior and exterior faces of varying infrastructure. Some types of glasses are listed below –
Stained glass – They are colorful and radiant in appearance and are used to beautify windows, mostly old buildings.
Reflective glass – It is a direct product of technology. The glass has a special feature of transforming into a mirror by the dissimilar saturation of light on the two sides.
Laminated glass - Also known as bulletproof glass, it is produced by compiling laminate layers with glass. It is mostly installed in VIP officials' vehicles and residential apartments, and public figures for their safety and security.
Tinted glass – This type of glass is useful in places where the sunlight is intensely bright, as it helps decrease the brightness.
Crinkled glass – This type has creases on its surface and is used for adorning the interior of the house.
Glass bricks – This kind has a wide range of uses as it can be used for flooring and roofing purposes. Light can penetrate easily through them, and therefore, they brighten the surrounding. They are according be used in making shower cabins, toilet partitions, and even pieces of furniture.
Reinforced glass – They are storm-resistant and are high-quality protection glasses useful in securing the house from invaders.
Apart from using these types of glasses to beautify one's house, glass contractors also provide other types of services that have a glass finish, like –
Making 'brass and stainless steel clad glass doors'
Providing 'storefront glass door replacement.'
Doing 'patio doors glass replacements'
Doing 'window glass repair and replacement.'
Glass contractors in most places offer the services mentioned above. Although service quality may matter from site to business, they try their best to satisfy their customers. For example, glass contractors in Alexandria, VA, specializing in providing both additional and mainstream services, but that may not be the case for every place.
WriterShelf™ is a unique multiple pen name blogging and forum platform. Protect relationships and your privacy. Take your writing in new directions.
** Join WriterShelf**
WriterShelf™ is an open writing platform. The views, information and opinions in this article are those of the author.
Article info
Categories:
Tags:
Date:
Published: 2021/03/06 - Updated: 2021/03/06
Total: 824 words