Why Public Speaking is So Easy
Well...not exactly, but as long as you know what you're doing, it can easily be pulled off.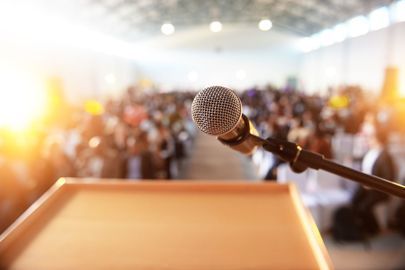 One of the main things to make sure before you do any sort of (formal) public speaking: i.e speeches, presentations... you HAVE to know what you are talking about very VERY well. It can not be stressed enough that materials presented in the speech have to be something you know extensively about and (hopefully) feel passionate about as well. It is common sense that people get nervous when speaking in-front of a crowd, by knowing your material inside and out, you reduce the risk of forgetting what you're talking about completely when you are up there doing your speech/presentation.
Another thing that personally helps me a lot with public speaking is just practicing. Nothing will ever become good or decent if you don't practice it, especially when it comes to public speaking. Practicing in-front of the mirror or family/friends, saying exactly what you would say for your speech/presentation gives you a chance to notice the less-smooth part of your presentation and make changes to improve it for the actual thing!
Public speaking not only is an important skill, but it should help boost one's self esteem and confidence as well, if done correctly. Being able to go in-front of a crowd, and talk like you know what you are saying takes a lot of confidence (that hopefully you aren't faking just for the speech), and mastering public speaking should to a degree increase your sense of confidence and esteem.
So go out there, and knock them dead with your public speaking skills!!
WriterShelf™ is a unique multiple pen name blogging and forum platform. Protect relationships and your privacy. Take your writing in new directions.
** Join WriterShelf**
WriterShelf™ is an open writing platform. The views, information and opinions in this article are those of the author.
Article info
Categories:
Tags:
Date:
Published: 2018/01/18 - Updated: 2020/05/28
Total: 269 words